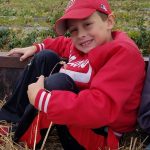 Just a boy, from a mama's heart.
The sign-up form for Little League Basketball is sitting on the counter. It has been staring at me for almost a week. Every single season I have filled it out excitedly awaiting the upcoming sport. When God blessed us with a handful of boys, I was eager to see what future awaited us. I didn't care if they wanted to play the drums, throw a ball, go out for a pass or shoot a basket. I wanted healthy, happy boys. I remember when our oldest was four years old and we signed him up for his first year of t-ball. Picking out cleats, a bat bag, and a glove, he was ready, and so were we. Three boys and ten years into it, I sometimes wish I could turn back time and go back to hitting the plastic ball in the backyard or throwing the little nerf football just for fun. Don't get me wrong; I LOVE LOVE LOVE watching my boys play any and all sports. It makes my heart soar to watch our oldest hit a home run or our second son score a touchdown with a 55-yard run. It makes them smile for days and relive their moment of glory. There are those children who take longer to blossom, to find their place on the field or the art studio. For years I watched our oldest struggle with his athletic abilities as his teammates excelled in areas he sometimes lacked. We could have walked away from little league back then, but we didn't, because our boy WANTED to play! He loved sports even though he spent most of the time on the sideline or the bench because he wasn't a starter. He dreamed of playing in the big game and worked to get better on his off time. Guess what happened? In spite of the struggles, he grew and grew and grew and his awkwardness gave way to speed and muscle. Coaches began to notice what he lacked in skill; he made up for in drive and determination. Is he the best athlete out there these days in junior high? No, not even close, but he pushes himself to the limit and gives it everything he has every single time. Our second son is one of those kids who has never sat on the bench. He has a natural ability and that is amazing. Believe me when I say- I get both sides of the coin.
The little league form on my kitchen counter belongs to our eight-year-old. Like his older brother, he LOVES to play football, basketball, and baseball. He is smaller than most of his teammates and wants to play. Just a few weeks ago he woke up on a Saturday morning all excited and told me he dreamed he made a touchdown. If only. He goes to practice, he goes to all the games but just like his oldest brother was, he is not one of the best and sits out more than he plays. This is the first year he has started to notice, and it breaks my heart. He is not alone. There are others joining him on the sidelines or bench just waiting for their chance too. If he said the word, we would be out….but he wants to play.
Little League Coaches do not get paid. They are volunteers. They give up hours and hours of their personal time to teach little kids how to play ball. I understand how difficult it is, I really do. My husband was a little league coach for years and believe me I know it is easier to deal with 12 rambunctious boys than it is to listen to a parent's dress down on your coaching ability. I applaud those of you who stand up to volunteer. It is a tough job, and we are thankful for you. I know you have to deal with kids who don't really want to be there, but are there because their parents want them to play. I understand that moving kids around makes it difficult for them to learn a position. I know it is hard to keep track of who went in and who didn't. It is tough and I am glad it is you and not me.
I understand the push and drive to "win". But at what cost? Do we have little league to see how many trophies we can line on our shelves to collect dust? Or do we have little league to teach kids how to play a sport and how to be part of a team? Does my son standing with a first place trophy in his hand make up for all the time he spent on the bench? Did he earn it?
He is just a little boy. He is still learning and growing. I know that when one reaches a certain level ( age 11, 12, junior high) that the games become about skill and the school coach will play his top 5, best 9, or starting 11. That is how the real world works. That is how "tournament" ball works, and that is ok. If you want to pack up and spend every single weekend at the ballpark that is FANTASTIC! As long as your kid loves the game and is an athlete at that level and wants to do it- please do. I applaud you for letting them live out their dream. My son has dreams too. To be part of a team. To run on the field, to play ball. My dream for him is that he has coaches who care more about the kids than they do about winning. To want to make an impact on how they feel about themselves and knowing who they are is good enough. To want to teach them and shape them to be the best athlete they can be. Have my boys had coaches like this? Has Nate had coaches like this? Yes, they have, but they have been few and far between. Sometimes I wish they would have their starters out there and leave a rotating position for the other kids. How can we expect them to get better if they don't get to play? We don't spend hours at the ball field to see him look cute in his uniform (even though he does). We go because HE wants to play. We do it for him and will continue to as long as he loves sports. Maybe someday he will grow big like his brother and leave the awkward little boy behind. Or maybe someday he will decide he doesn't love it anymore and wants to march in the band, or paint on canvas, or lead his animal around the show ring. Until then, I can only pray he will be coached up to be a good person, a good teammate and to give everything he has each time he steps on the field or the court. I pray he has fun, he enjoys this life and nothing on this earth takes his beautiful smile away.